Key facts:
Unibot is the main trading bot on Telegram and is used to buy and sell on Uniswap.

These bot tokens have very limited utility, which reduces their potential for growth.
Something constant in the world of cryptocurrencies is the emergence of fashions and trends that dominate the market for several months and "steal" all the looks. They then enter a stage where interest in the product or service they provide wanes and the attention they receive decreases.
Initial coin offerings (ICOs), the decentralized finance (DeFi) craze, metaverses, decentralized autonomous organizations (DAOs), and sports fan tokens are just some of the fads that have gained momentum in recent years.
Now, new trend showing signs of consolidation: tokens associated with Telegram bots. Last week, analysts at CoinGecko conducted research on this topic.
One such study, about which author Sean Paul Lee wrote a report, explains that "Telegram's bot tokens gained popularity shortly after the launch of Unibot" in May 2023. Lee adds:
"Unibot allows traders to make trades on Uniswap from Telegram chat. Being one of the first Telegram token trading bots, it has managed to become the preferred choice of cryptocurrency traders. After the successful launch of Unibot, several more bots with different functionality appeared in Telegram. In addition, some of them even started to be released on Discord."

Sean Paul Lee, Analyst at CoinGecko.
Another report written by Hwi Yan, also a CoinGecko analyst, describes these bots as "connecting to decentralized cryptocurrency exchanges and operating based on pre-defined rules. While they are generally free, the team often charges a small transaction fee."
Both authors agree that this is a hot topic, and the token prices associated with these bots allow us to confirm that they are correct.
For example, the graph shown below corresponds to the graph of the Unibot token (UNIBOT) since its launch.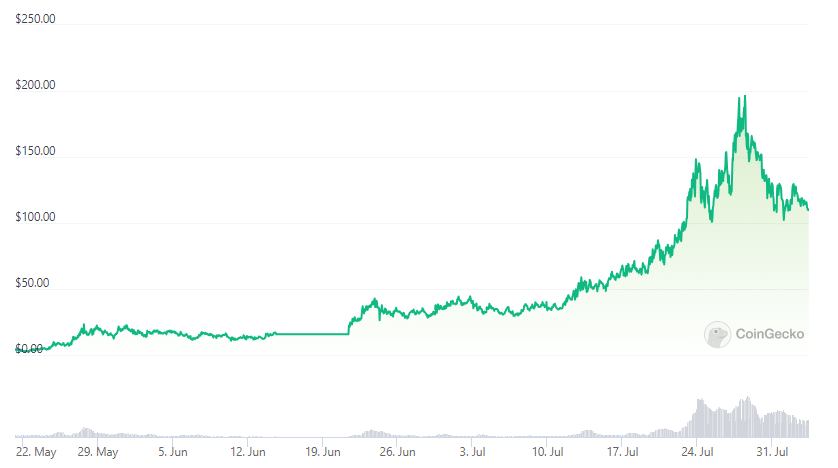 May 22 to July 28 UNIBOT increased the price by 78 times, rising from $2.50 to $196 at its peak. At press time, it is trading at $110.
The WagieBot (WAGIE) token had similar indicators, the price of which has multiplied by 74 since launch.
LootBot (LOOT) is another Telegram bot that launched its own token. Although it had a smaller price increase than previous ones, it is by no means negligible. Those who purchased the token during launch and sold it at the peak multiplied their initial investment by 30 in just one month.
The following chart provided by DuneAnalytics allows you to see the comparative market capitalization of major tokens associated with Telegram bots. The dominance of UNIBOT in this market niche is obvious.

What are Telegram trading bots for?
Jan explains that these bots can do 8 things. First, mention that they can "buy and sell tokens efficiently." The analyst clarifies that Telegram trading bots help to buy and sell tokens at high speed and, in addition, some of them will give live updates on how much is won or lost in the operation.
Secondly, Jan explains that thanks to these bots stop loss and take profit can be activatedwhich is not always possible natively on decentralized exchanges (to learn about this type of order in trading, the cryptopedia educational section of CryptoNoticias would be helpful).
As a third functionality of Unibot and other trading bots, the author explains that have the characteristics of "do not pull the carpet". "If the developer of the token tries to cheat, the bot can detect a pending trade (…) and execute a faster sell trade to liquidate the position before the liquidity is withdrawn," he adds.
Fraud, which consists in the withdrawal of all the liquidity of the token on the market by the developers themselves, is called "picking". When this happens, investors are left with tokens that cannot be sold or exchanged, and developers (often anonymous) disappear after making a profit.
Fourth, the CoinGecko analyst states that these bots can detect decoys. This is called a trap, which is set to attract investors with the promise of high returns. Tokens seem valuable and attractive, but when investors want to sell them, they cannot do so.
This can happen in several ways. For example, token developers can encode a smart contract in such a way that only they can make transactions. Or they can set the sale price of the token to zero, which means that although the token can technically be sold, there will be nothing in return.
According to item number 5, these bots enable copy trading, that is, keep track of a specific wallet. "The idea is to copy the pros and thus replicate their trading success by following all their trades," Yang says.
Items 6, 7 and 8 apply to various sniper shooting methods that can be used with these bots. In the context of cryptocurrency trading, "sniping" is a term used to describe the practice of buying or selling a token just before or after a significant event in order to make a quick profit.
After mentioning all these benefitsJan does not exclude that there may be malicious or buggy Telegram bots can be used by hackers. For this reason, it states:
"It is always important to take into account the possible security flaws that (these bots) may have. To be on the safe side, users may want to connect a dedicated wallet to the bot and only transfer the amount they need to use (for trading)."

Hwi Yan, Analyst at CoinGecko.
our conclusion
It is true that these Telegram trading bots can be useful and serve to gain an edge in cryptocurrency trading. Perhaps this market niche will grow and new bots with new features will appear..
What cannot be foreseen with such certainty is that these bot tokens will be successful in the market (besides being in vogue now) and that they will be a good investment in the medium to long term.
Some of these tokens can work to control the protocol, while others can work to gain certain benefits in the bot for holding them. note that they are all utilities, very limited to a specific productwhich reduces its growth potential.
Also, these are very volatile small cap altcoins, so they should not be viewed as a safe investment or store of value. Changes in its price can be several percentage points up or down within minutes.
Possibly (even if bots continue to work for many more years) the fashion for tokens associated with these technologies will dissipate in a few weeks or months, as has happened with many other fads in the world of cryptocurrencies. Thus, anyone who wants to keep their capital safe can conclude that it is wise to stay away from these types of assets.