It took Olivia, the daughter of bitcoiner Gerson Martinez, about 20 seconds to make her first Bitcoin (BTC) purchase at an ATM.
Previous instruction from his father, an American entrepreneur and bitcoin enthusiast of Salvadoran origin, the girl quickly converted 20 US dollars (USD) into satoshithe smallest unit of bitcoin.
According to Martinez, her eldest daughter Olivia "learned how to convert her money from Monopoly in bitcoins. said it refers to the US dollar, which also has legal tender in El Salvador.
Gerson Martinez was born in the USA. but her parents are Salvadoran. He is also a bitcoin miner. He runs a company focused on activities in the US and Canada.
Olivia's transaction was carried out through an ATM created, designed and assembled by Salvadoran company K1. This is a device that works with the Bitcoin Lightning network, allows you to convert various national currencies to BTC in seconds.
K1 is currently operating in various countries around the world. Among them USA, Canada, New Zealand, Netherlands and Germany. As Edgar Borja, CEO of K1 Tecnhology, said last July, this ATM is designed for smaller economies and has different types of users.
As shown in a video posted by Gerson Martinez, the little girl inserted a $20 bill into the machine and, after accepting the offer, allowed the device to scan the QR code of your wallet installed on the tablet.
Almost automatically, the cashier announced that the shipment had been made. The same was done by the girl's mobile phone, which warned that it they received just over 60,000 Satoshi per bitcoin wallet.
New generations will not need to resort to traditional finance
Although Olivia, the daughter of Gerson Martinez, used a K1 ATM to trade bitcoin.this appliance has already been used by children in the past who also exchanged fiat money for BTC.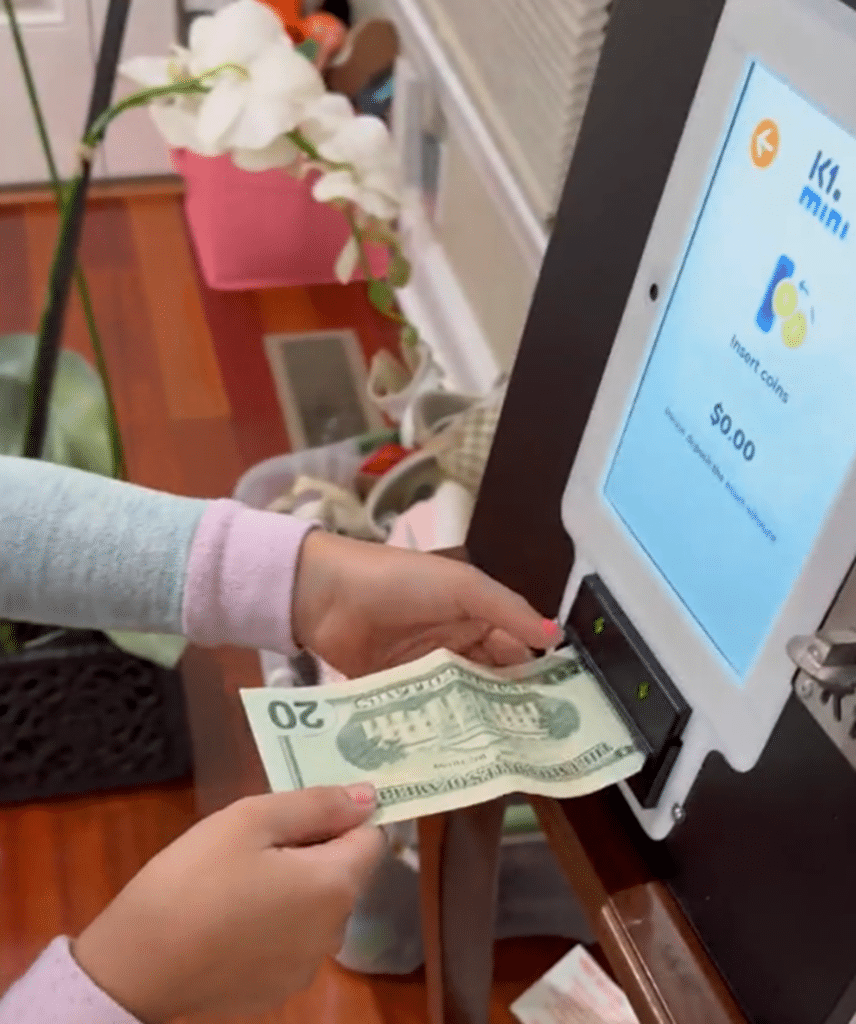 As CriptoNoticias reported in December 2022, various babies in El Salvador were exchanging dollar cents for Satoshi. demonstration of the usability of the device.
For Martinez, the speed with which her daughter bought bitcoin through an ATM shows that the current barriers to adoption faced by financial institutions due to new technologies, will be "inappropriate" for a generation raised on technology and feel comfortable using it.
In other words, it is possible that this is a new generation, native to digital technologies, no need to go to traditional financial institutionsbecause they will be able to do whatever they want with digital technology.
What bitcoiner Gerson Martinez is proposing makes sense given that new generations are already demanding a system that will allow them to make transactions and financial transactions with bitcoins in a simpler way.
A little over a year ago, it was generation Z (young people born between 1996 and 2012) more interest in using bitcoin and cryptocurrencies, according to PYMNTS data, according to CriptoNoticias.